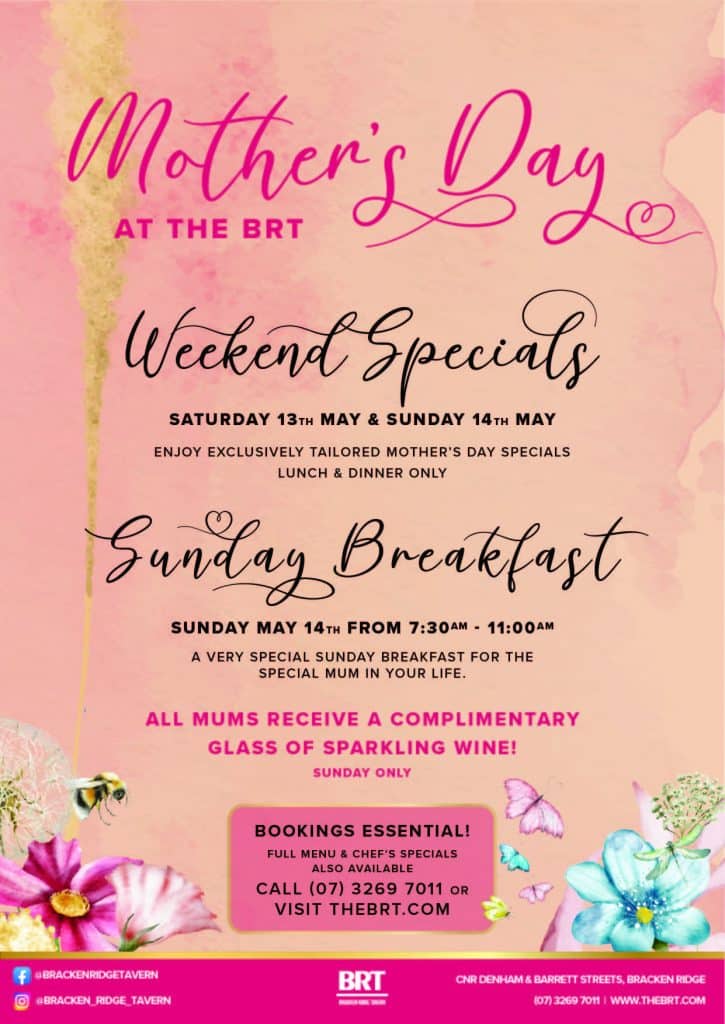 Mother's Day
Spoil Mum this Mother's Day!
Mother's Day Specials ALL WEEKEND!
Featuring dishes like:
Pan Seared Scallops in garlic butter.
Chicken Breast stuffed with semi-dried tomatoes, Danish feta & roasted pine nuts.
 Profiteroles filled with choc-caramel.
PLUS – For an extra treat don't forget to book in for our annual Mother's Day Breakfast! 
 Sunday 14th May from 7:30AM – 11:00AM 
– MENU – (Available ONLY on Mother's Day)
Toast (2 Slices) – $7
Choice of sourdough, multigrain, raisin toast & gluten-free toast. Served with vegemite, peanut butter or strawberry jam.
Eggs (2) on Toast – $12
Choice of fried, poached or scrambled eggs.
Breakfast Burger – $18
Eggs, bacon, bbq sauce, hashbrown & aioli on a brioche bun.
Halloumi Burger – $17
Seared halloumi, sliced fresh tomato, spinach & tomato relish on a brioche bun.
Eggs Benedict – $22
Choice of ham, smoked salmon or sautéed spinach, with 2 poached eggs & hollandaise sauce on an English muffin.
Dukkah Smashed Avocado – $20
Avocado, feta cheese, cherry tomatoes, snowpea sprouts on sourdough accompanied by 2 poached eggs.
Wild Mushroom on Toast – $18
Sautéed wild mushrooms, with 2 poached eggs on sourdough.
BRT Big Breakfast – $27
Two Eggs (fried, poached or scrambled), chipolatas, bacon, baked beans & grilled tomato on sourdough.
Bircher Muesli – $16
Oats soaked in apple juice accompanied by dessert yoghurt. Garnished with cashews, strawberries & granny smith apple
BOOKINGS ARE ESSENTIAL!
Don't miss out – book today! 
Call (07) 3269 7011